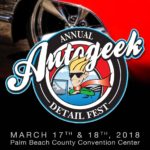 On March 17th and 18th, 2018, Autogeek will host the 13th annual Detail Fest & Car Show, offering a unique opportunity for car enthusiasts from around the globe to gather and celebrate their shared passion for cars! Detail Fest will feature car shows, product demonstrations, mini-detailing classes, food vendors and live entertainment. Detail Fest provides a chance for fans and professionals alike to meet industry insiders and celebrities in a fun and casual setting. Each year, awareness of Detail Fest grows and AutoGeek anticipates a record number of participants and spectators this year. Features emcee/DJ Rockin' Rich Bedford both days.
Confirmed Celebrity Guests Include:
Barry Meguiar, host of Car Crazy and President of Meguiars, Inc.
Cristy Lee, host of All Girls Garage
Dennis Gage, host of My Classic Car
Ray Evernham, host of Americarna and former crew chief Bill Davis Racing
Ken Block, Professional rally driver and co-founder of DC Shoes
Mike Phillips, host of Competition Ready and director of Autogeek training
Richard Griot, founder Griot's Garage products
Von Hot Rod, worlds greatest pin stripe artist
https://www.facebook.com/pg/AutogeekDetailFest/about/?ref=page_internal