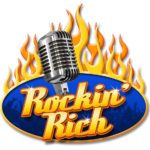 It is an honor to be asked to carry on the great tradition of providing music and being your MC for the 33rd Annual River Ranch Rod Run! This annual "super" event is hosted by Rich and Linda Martin of the Sunshine State Rodding News, and takes place at the beautiful Westgate River Ranch Resort. The resort is located on Hwy 60 between Yeehaw Junction and Lake Wales Fl. An entire weekend dedicated to cars, trucks, vendors, family fun, rodeo, horseback riding, pony rides, golf, hayrides, food and beverage, cart rentals, swimming, fishing, and tennis. There is also plenty of room for motorhomes and travel trailers in the campground area. Primitive camping is also available.
This is an OPEN event for Rods, Customs, Classics, Street Machines, etc with the 32nd Run drawing over 500 cars!
$100 Cash Drawing from pre-registered entrants, Friday night welcome party with free soda and popcorn, and a cash giveaway and movie in the show field next to your DJ between 7 and 9pm.
Dash plaques to all participants, swap meet, T-shirts, door prizes. Long distance award, Hard Luck, and Club Participation awards only (No Judging).
Accommodations available is anything from a Lodge Suite, to rail cars, 1 & 2 bedroom cabins and cottages, guestrooms, and more! MAKE YOUR RESERVATION NOW! DO NOT SLEEP ON THIS EVENT! Call Rich and Linda Martin at 954.587.5485 or GET THOSE RESERVATIONS MADE AT "THE RANCH" by calling 1-866-499-9077 and MENTION CODE # 62-289 for the River Ranch Rod Run!
I would love to have YOU join ME as we enjoy a fun-filled weekend together as we start a brand-new tradition at this long running terrific annual event. BONUS: Scott the Music Man joins us for fun, frolic, and plenty of remote sound!
Show Hours:
Friday Jan 28, 2022 3p-9p registration
Friday Night 7p-9p Free soda, popcorn, movie, cash giveaways on the field.
Saturday Jan 29, 2022 9a-1p for registration
Saturday 9a-4p for Car Show and Flea Market
Car Show pre-registration $15.00
Car Show on site registration $20.00
Swap Meet $20.00 (no electric)