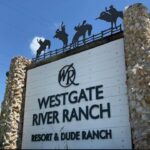 It's time to pack up the car and head for the ranch. There's plenty to do, or you can just kick back and do nothing at all for the entire weekend. FRIDAY JANUARY 27th & SATURDAY JANUARY 28th, 2023.
OPEN EVENT: Rods, Customs, Classics, Street Machines, etc with nearly 500 vehicles for the last several years.
Friday Night: 3-9pm registration and from 7-9pm a selected outdoor movie with free soda and popcorn. Cash giveaways on the field at the movie.bike rentals, swi
Saturday: 9a-1p Registration–9a till 4pm CAR SHOW AND FLEA MARKET.
$100 Cash Drawing From Pre-Registered Entrants
ONE OF THE BEST SHOWS OF THE YEAR!
Dash plaques to all participants
Swap Meet
T-Shirts, Door Prizes, Etc
Long distance, Hard Luck, Club Participation awards only. No Judging-No Trophies
ACCOMMODATIONS TO SUIT ALL! Lodge suites, Lodge guestrooms, Deluxe Lodge Suite, 1&2 bedroom cabins, 1&2 bedroom cottages, Glamping, Rail Cars, Luxe Tee Pee's
MAKE RESERVATIONS NOW! USE CODE #62-289 FOR THE RIVER RANCH ROD RUN DISCOUNT TILL 12/28/22.
Plenty of room for trailers, motor homes, and primitive camping.
Rodeo, Horseback riding, pony rides, hayrides, restaurants and shops, cart rentals, tennis, fishing, swimm- ing, boat rentals, golf, rock climbing. AND MORE!
RESERVE NOW! CALL WESTGATE RIVER RANCH RESORT 1-877-502.7058
CAR SHOW AND VENDOR INFO–RICH or LINDA MARTIN 954.587.5485 or 954.309.1514.
HOST DJ ROCKIN RICH BEDFORD
REMOTE SOUND DJ SCOTT THE MUSIC MAN
Pre reg $15 till 1/22/23—Day of Show $20