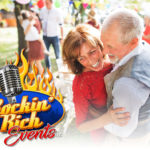 It is with excitement we announce our first endeavor in concert promotion! The Mystics are members of the "Doo Wop Music Hall Of Fame" and are cherished for the big 1959 Top 20 hit "Hushabye". Their list of songs are recognizable to the 50's music fan, and their 90 minute show of great rock and roll music is not to be missed. Originally formed in Brooklyn, New York the Mystics not only perform beautifully, but give you the stories of their songs…and the ones they "almost had". The LIVE show with "The Mystics Band" features two original "Mystics", George Galfo and the lead singer Phil Cracolici.
Location: THE MOUNT DORA COMMUNITY BUILDING. This historic Mediterranean Revival-style building has an award-winning theater, an open lobby, concessions, a box office, and green room. A lovely sculpture garden borders the building, offering a great place to gather pre-show, during intermission, or just to enjoy a pleasant stop during your walk downtown. The building was constructed in 1929 and recently underwent a $2.8 million restoration and expansion funded by the CRA and private donors.
DOORS OPEN AT 1:30PM (Cash Bar & Snacks Available)–SHOWTIME 3PM. After the show, you are steps away from the beautiful downtown area where you can enjoy fine and casual dining, great shopping, a beautiful park, and delicious desserts!
MOUNT DORA COMMUNITY BUILDING – 520 North Baker Street, Mount Dora, FL 32757.
Tickets: $23.40 – $28.75 – Click here to purchase.
Ticket holder acknowledges all risks incidental to the event for which this ticket is issued, whether occurring before, during or after the event. Upon admission, the ticket holder agrees to comply with all applicable laws, by-laws, regulations and venue rules. Failure to comply with venue rules may result in ejection from the event. Venue management reserves the right to refuse admission and/or eject any individual whose behavior is believed to be questionable. Ejection cancels this ticket and with that, the holder forfeits any claim to a refund of the ticket price or any associated service or delivery fees. The price displayed on the ticket represents the face value of the ticket and does include all service and delivery fees where applicable. Lost and/or stolen tickets will not be honored. All orders are final – No refunds, no exchanges. This ticket is for purchase or transfer by electronic means only. Purchase of this ticket from, or sale of this ticket by, a third party is not authorized. Tickets not purchased electronically carry risk of being fraudulent.